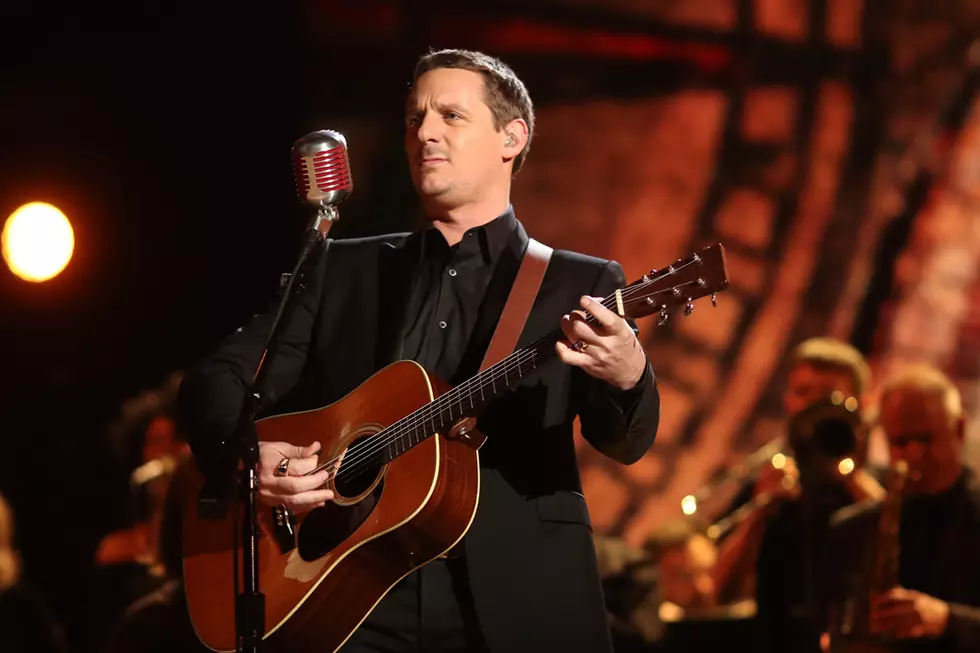 Sturgill Simpson Slams 'Fascist' Donald Trump Outside CMA Awards
Christopher Polk, Getty Images
Sturgill Simpson made one of the most interesting appearances during the 2017 CMA Awards on Wednesday night (Nov. 8), but he didn't show up on stage or on TV. Instead, the singer-songwriter busked in the street outside the venue to raise money for the ACLU and slammed President Trump.
Simpson is no stranger to cutting against the grain in Nashville, and he shared his busking protest session via Facebook Live, taking questions and playing for fans. The singer took the opportunity to share his views on the president, who was the subject of some of the humor from CMAs co-hosts Brad Paisley and Carrie Underwood.
Country Stars Sound off About 2016 Election
"He's a fascist f--king pig," Simpson said. "And I can say that at this point because anyone who supports him at this point is an ignorant f--king bigot."
The Grammy-nominated artist had a tip jar next to him, and he said during the Facebook session that he would donate any money he raised to the American Civil Liberties Union. He went into a longer diatribe about all of the ills he sees in American society right now, saying, "Nobody needs a machine gun, and that's comin' from a guy who owns quite a few guns. Gay people should have the right to be happy and live their life any way they want to and get married if they want to without fear of getting drug down the road by a pickup truck. Black people are probably tired of getting shot in the streets and being enslaved by the industrial prison complex. Hegemony and fascism is alive and well in Nashville, Tennessee. Thank you very much."
He also took a potshot at the glitzy CMA Awards ceremony going on inside the Bridgestone Arena, saying, "I heard they were celebrating country music down here tonight so I thought I'd come and play some."
Simpson's Grammy Award for Best Country Album was visible in his care as he played the unusual impromptu gig, which raised a total of $13 in tips for the ACLU. He won the award for A Sailor's Guide to Earth.
See the Stars Who Performed at Trump Inauguration Concerts