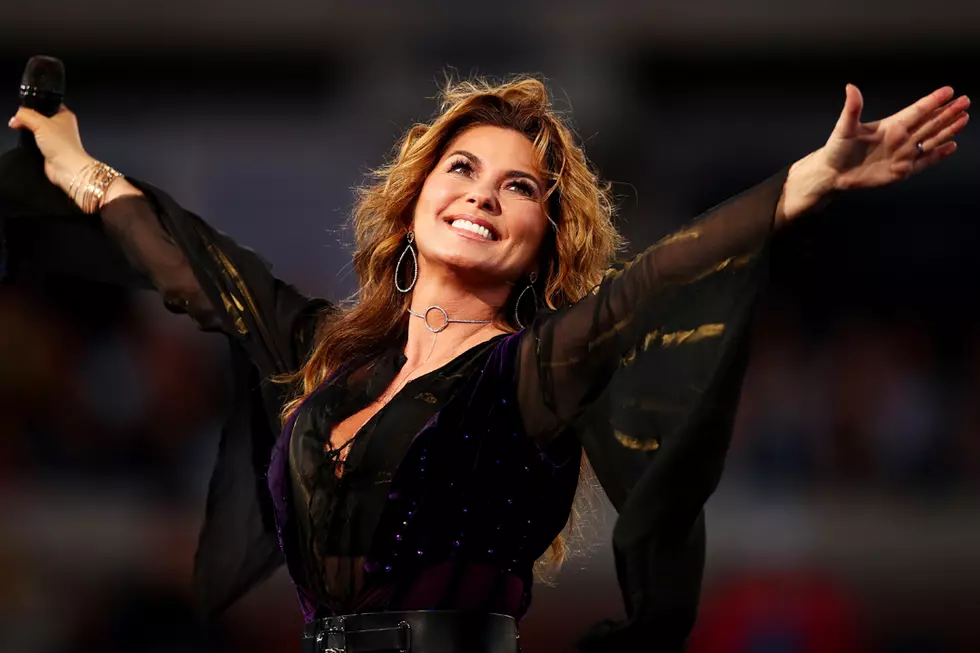 No. 8: Shania Twain – Country's Most Powerful Women of All Time
Clive Brunskill, Getty Images
Twain's story has become the stuff of legend over the years. She aspired to a career as a country singer from a very young age and began performing in bars and clubs in her native Canada before she was out of her teens, but her parents' deaths in a car accident forced her to stay in Canada to raise her younger siblings, which she did by finding work as a singer in a resort.
Twain moved to Nashville after her siblings grew up and moved out, and she caught the attention of Mercury Records. The label released her self-titled debut album in 1993, but it was slow going at first for Twain; the album peaked at No. 67 and barely made a ripple.
But it attracted the attention of powerhouse rock producer Robert John "Mutt" Lange, who offered to write new songs with Twain and produce her next efforts. After meeting at Fan Fair in 1993, the two not only began collaborating, but dating. They married in December of that year and Twain's second album, 1995's The Woman in Me, signified a major shift in direction, turning musically toward a brand-new style of pop country and re-imaging Twain as the ultimate modern independent female.
Twain scored her first hit with "Whose Bed Have Your Boots Been Under," the album's first single, and followed up with "Any Man of Mine" which gave her her first No. 1 hit. She also scored with "(If You're Not in It for Love) I'm Outta Here!," "You Win My Love" and "No One Needs to Know," launching her as one of music's hottest stars across genres.
Twain followed up with 1997's Come On Over, which extended Twain's reach internationally, scoring multi-genre success and launching her as a global pop superstar. "Honey, I'm Home," "Man! I Feel Like a Woman," "You're Still the One," "That Don't Impress Me Much" and "From This Moment On" are among the 12 songs that were released as singles over a two-year chart run that ultimately sold 40 million copies of the album worldwide, making Come On Over the best-selling album by any female artist of all time.
She scored another massive international success with Up! in 2002, selling 11 million copies in the U.S. alone on the strength of hit singles including "Forever and for Always" and "I'm Gonna Getcha Good." Twain followed that success by a break of nearly 15 years in which she divorced, raised her son, re-married and battled vocal problems. But she is set to release a new album, Now, in 2017, to be followed by a tour in 2018, ensuring her legacy to even more generations of fans.
Twain was also named both the CMA and ACM Entertainer of the Year in 1999, and was inducted into Canada's Walk of Fame in 2003. She was inducted into the Canadian Music Hall of Fame at the Juno Awards in 2011, and earned a star on the Hollywood Walk of Fame that same year. Even if Twain had never released another album after Up!, her position as one of country music's most powerful and influential female artists is long since assured.
Female Trailblazers Who Are Changing Modern Country Music
Watch: Country Women Well-Represented in 2017 Taste of Country RISERS