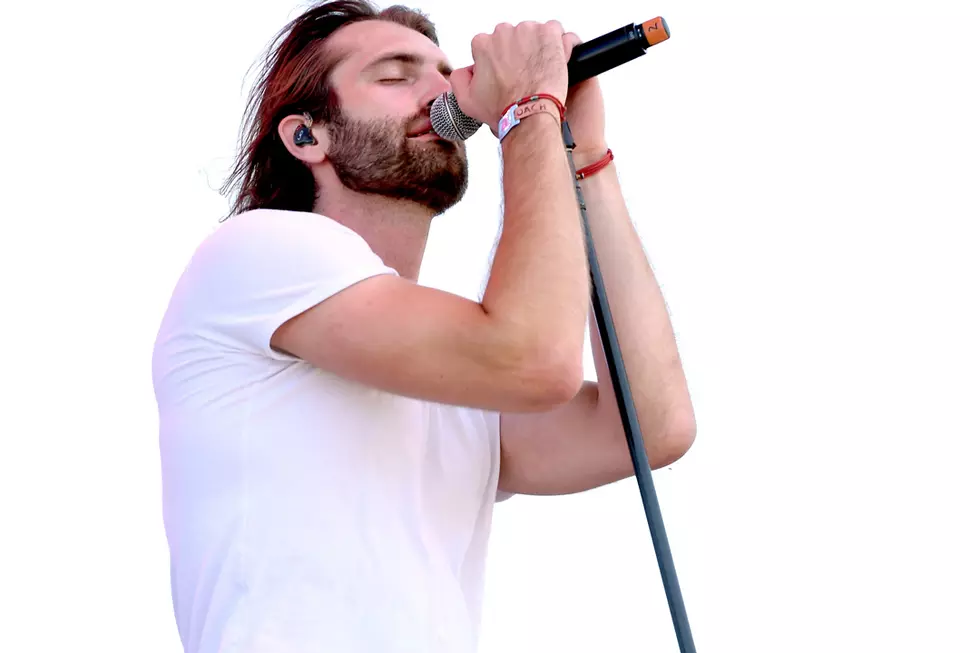 Ryan Hurd Is Ready for the Spotlight
Kevin Winter, Getty Images
After carefully releasing new music over the past few years and opening up multiple tours as a supporting act, Ryan Hurd is ready for the spotlight. And his most recent songs prove he's got the talent to take it.
On the eve of his wedding to fellow singer-songwriter Maren Morris in March, Hurd put out "Diamonds or Twine," a heart-tugging ode to his wife. That song went on to top Sirius XM's Country Countdown with almost no promotion.
As if that weren't impressive enough, his follow-up song, "To a T," is already his most popular yet, earning millions upon millions of streams — and the admiration of some fellow artists — in three short months.
"Cole Swindell has been super supportive of me ever since I put that song out," Hurd tells Taste of Country. "His support has been super cool. And Jake Owen, too. He was going to record the song until he found out I was." Hurd counts Owen as an influence, so the peer validation is particularly cool.
Hurd first released his single as an artist "We Do Us" in August 2016. A four-song EP followed in April 2017, including his first ever radio single, "Love in a Bar," which peaked at No. 50. He got his performance chops up to speed opening for acts like Florida Georgia Line, Thomas Rhett and his wife, Morris. But now he's ready to move to the top of the ticket and headline a collection of his own shows in early 2019.
"Playing an hour on your own for people who bought a ticket to see just you, that's an amazing thing," Hurd says. But it definitely comes with some added pressure.
"When you're opening for somebody else, you don't ever worry if you're selling tickets or not," he admits, laughing. "You're just focused on winning over fans." It's an admittedly low-stakes occasion compared to booking your own shows.
He says the hour-long set — his set with his name on the ticket — will include tunes his fans already know, plus new ones and versions of cuts he's had for other artists. "We're going to make the show really song-based," he says. "There are going to be a lot of rock 'n' roll moments, but we're also going to introduce stuff people don't know yet."
Hurd is working closely with his team to put the show together, including music director Matt Payne, who has helped put together shows for people like Kelsea Ballerina, Sam Hunt and Morris.
"I'm sure [Maren] will have something to say about what we're doing," laughs Hurd. "She's really great about offering her perspective, and it's a good thing! I'm really lucky to have a Grammy Award-winning artist in my own house."
In addition to his wife, Hurd is channeling other influences for his headlining show. "I look at people like Jake Owen who is a great performer, and I think is sometimes overlooked," he says. "I look at Ryan Adams and Father John Misty and the way they perform live. That's kind of the way you take inspiration is you love their show and take little pieces of what they do and make it yours."
Hurd and company chose four cities he thought responded really well to his opening set — Los Angeles, New York City, Chicago and Nashville. So far, the only show that hasn't sold out is New York City, and that's still two months away. "It's really gratifying to see fans wanting to hang out with me," he admits.
The shows are a promising leap for a singer who is making that difficult transition from songwriter to artist. It helps he's already got a No. 1 song under his belt (Blake Shelton's 2015 duet with Ashley Monroe, "Lonely Tonight").
Hurd is focusing on the four shows on the books for now, but is eager to get out and play more. "The number one response when you announce tour dates from fans is, 'Why aren't you coming to my city?'" Hurd shares. The biggest (and most surprising) outcry so far?
"London," he says. "They can't get enough of what we do in Nashville."
To make things even busier, "To a T" goes to radio in early 2019. And for fans hungry for more music, he's got you covered. "I have no idea when it's coming, but we've got a whole record recorded," he says. "As soon as they say, 'Press play,' we're ready to go."
18 Best Country Songs of 2018