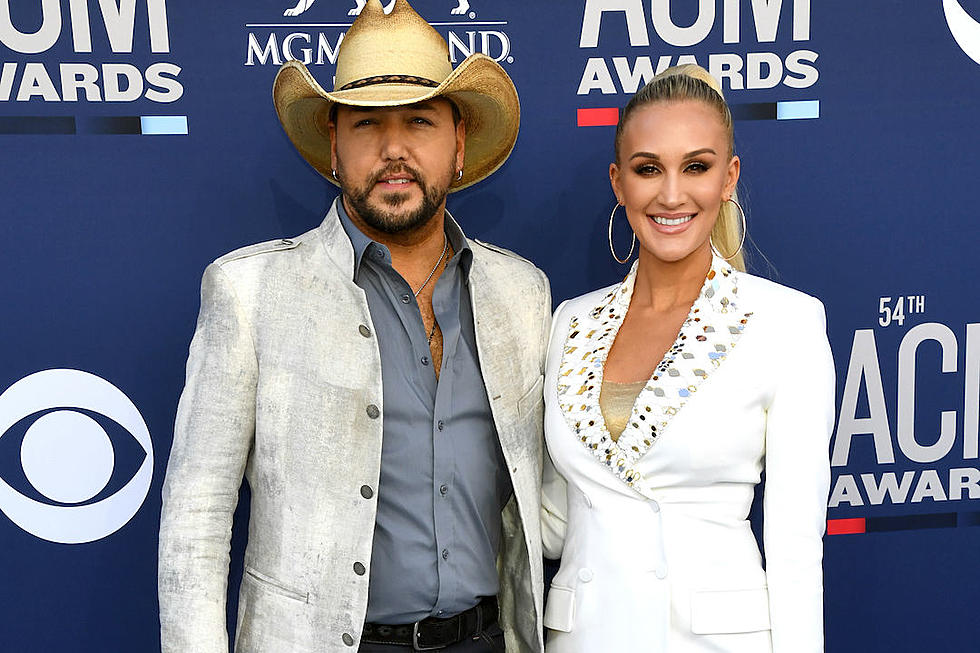 Jason Aldean + Wife Brittany Know Their Relationship Didn't Start on a Great Note
Ethan Miller, Getty Images
Sometimes, life just gets messy. Jason Aldean and his wife, Brittany know their relationship started on the wrong foot -- as a very public celebrity scandal that involved Aldean cheating on his first wife -- but the couple agrees that they wouldn't change the outcome of that situation.
In an episode of the Velvet's Edge podcast will Kelly Henderson, Aldean and his wife look back at that tumultuous time in their lives. In 2012, the singer was married to his first wife, Jessica Ussery, and was readying the release of his fifth studio album, Night Train. He became embroiled in a massive scandal that fall after pictures surfaced of the singer kissing Brittany Kerr, who was at the time known best as a former American Idol contestant.
A painful divorce followed, but what began as a country music scandal turned into Aldean and his now-wife's country music love story. Since then, the couple has gotten married and had two children, Memphis and Navy. While the pair agree that their relationship didn't have the best origins, they couldn't be prouder of the family they've built since.
"I think we both probably hated the way it started. But at the end of the day, I wouldn't change the outcome of it at all," Aldean explains in the podcast. Adds Brittany, "Obviously, both of us feel this way -- we would have done things completely differently. However, we're very happy that the outcome of it is what it is and now we have these two beautiful babies.
"We are sincerely best friends and it's one of those things where I wish everybody could experience a love like this, because we love each other so much," she continues. "It makes me feel sad for people who are maybe in a situation where they don't feel that way, or maybe they haven't met that person yet. I just want this love for everybody."
A Look Back at Jason Aldean and Brittany Kerr's Love Story 
How Well Do You REALLY Know Jason Aldean?