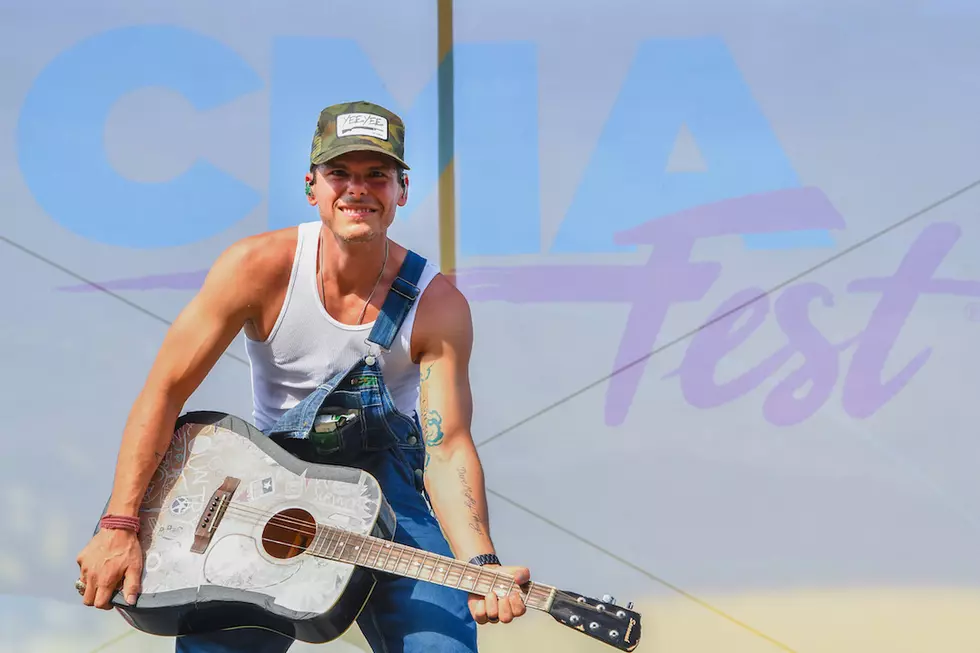 Watch New Music Videos From Granger Smith, John Prine and More Country Artists
Erika Goldring, Getty Images
This week, country music's newest videos ran the gamut from timeless love stories to animated imagined worlds to....driving Uber? Read on to check out the latest in country music and find your newest weekend jam.
Granger Smith, "You're In It":
More often than not, Granger Smith's music videos feature a recurring love interest--his wife of eight years, Amber--and his newest video for "You're In It" is no exception. He tells People, "I've told her it's getting to the point where we've done so many together that it would be really weird if all of a sudden I came up with a video where there was an actual love interest and it wasn't her."
The video begins with a shot of the couple taking in some serene country scenery and Smith asks, "Did I ever tell you how my Paw Paw got this farm? ... He won it in a poker game." Viewers soon realize that the farm is going into foreclosure, and that's where the video's action begins.
How do you save a beloved farm? According to the video, you drive a getaway car for a few bank robbers (played by Texas country artists Parker McCollum and Koe Wetzel). However, the plot takes an unlikely twist as Smith realizes what's really important. (Hint: there's some foreshadowing at the beginning when he says, "I love this view, though." And his wife says, "I do too. But not as much as I love you.")
Recently, the Smith's daughter London starred in the lyric video for "You're In It."--CV
John Prine, "Egg & Daughter Night, Lincoln Nebraska, 1967 (Crazy Bone)":
Two-time Grammy winner John Prine has released an animated music video for "Egg & Daughter Nite, Lincoln Nebraska, 1967 (Crazy Bone)." It was created by Nashville-based company Neighborhoods Apart Productions and directed and animated by Josh Britt and Neilson Hubbard.
Prine tweeted about the project, saying, "This video has it all: eggs, daughters, roller skates, dancing dogs, and more eggs," and we couldn't say it better ourselves. Like many of his songs, this one tells the flat-out truth while offering a humorous slant. One of the video's most memorable scenes takes place during the last verse of the song, when he sings, "When the grandkids all are grown / And they put you in a home / And eternity is approachin' fast / Yeah you're half out of your head / And you prob'ly pissed the bed / And you can't see a thing to save your ass." Just look for the bright red scooter and a white-bearded Prine.
"Egg & Daughter Nite, Lincoln Nebraska, 1967 (Crazy Bone)" is from Prine's 2018 album, Tree of Forgiveness. --CV
Lucie Silvas, "Kite": 
Lucie Silvas  plays a puppet who sheds her strings in the music video for "Kite," the first single off her upcoming album, E.G.O. The liberating anthem follows the story of a woman who was specifically designed to follow the every whim of her creator, but who eventually overpowers him. The robot-meets-frankenstein dance resonates with the pounding rhythm of the song and the driving lyrics, challenging the controls placed on the singer, and ending with a dramatically won freedom.
"...I wanted the video to reflect that the strings were off for this album. No one was controlling it behind the scenes, nothing was holding us back from saying everything we wanted to say the way we wanted to say it," Silvas tells People. --LS
Faren Rachels, "Uber Driver":
Faren Rachels plays the chauffeur in the music video for her new single "Uber Driver." The catchy, tongue-in-cheek song is delivered in classic honky-tonk style by Rachels as she carts around various Jeeploads of passengers, from bachelorettes to the bawling broken-hearted, to the one and only Luke Combs, who rides shotgun for a sing-a-long at the video's conclusion. Observing what Rachels puts up with as a for-hire chauffeur definitely serves as a question to an intolerant significant other: "Why can't you be like my Uber driver?" --LS