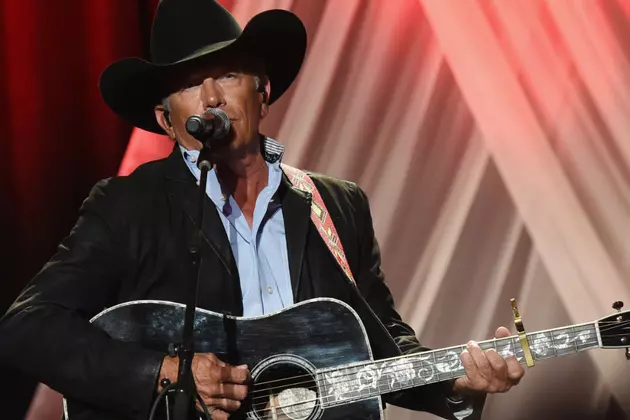 George Strait Named Texas' 2017 State Musician
Rick Diamond, Getty Images
George Strait earned quite the birthday present on Thursday (May 18): The country icon's home state of Texas has named Strait their 2017 State Musician; Strait was officially appointed the honor on his 65th birthday.
The designation of Texas State Musician is selected every two years, via nominations from by citizens, by the Texas Commission on the Arts. In addition to Strait -- a native of Poteet, a town in South Texas -- Willie Nelson, Lyle Lovett and ZZ Top's Billy Gibbons have also received the accolade, which is appointed through House and Senate resolutions in the Texas State Legislature.
"It's a great honor for me to be selected as Texas State Musician of 2017 and join this very prestigious list of other honorees," Strait says in a press release. "I'm a very proud Texan and love to sing the praises of our great state every chance I get. Thank you very, very much."
Strait hasn't strayed far from his Texas roots during his legendary career: He's released Lone Star State-themed hits such as "Amarillo By Morning," "All My Ex's Live in Texas" and "Somewhere Down in Texas," among many others. The country music legend also recently paid homage to his home state by enlisting fellow Texan Kacey Musgraves to open for him during his ongoing Las Vegas residency in 2016.
Inducted into the Country Music Hall of Fame in 2006, Strait has sold more than 100 million records worldwide and scored 60 No. 1 hits over the years. "The King of Country" also has three CMA Entertainer of the Year awards and 33 albums that have gone platinum or multi-platinum to his name.
Strait is currently performing in Sin City, at the T-Mobile Arena; a list of upcoming dates can be found on his website.
A Look Back at George Strait's Career in Pictures