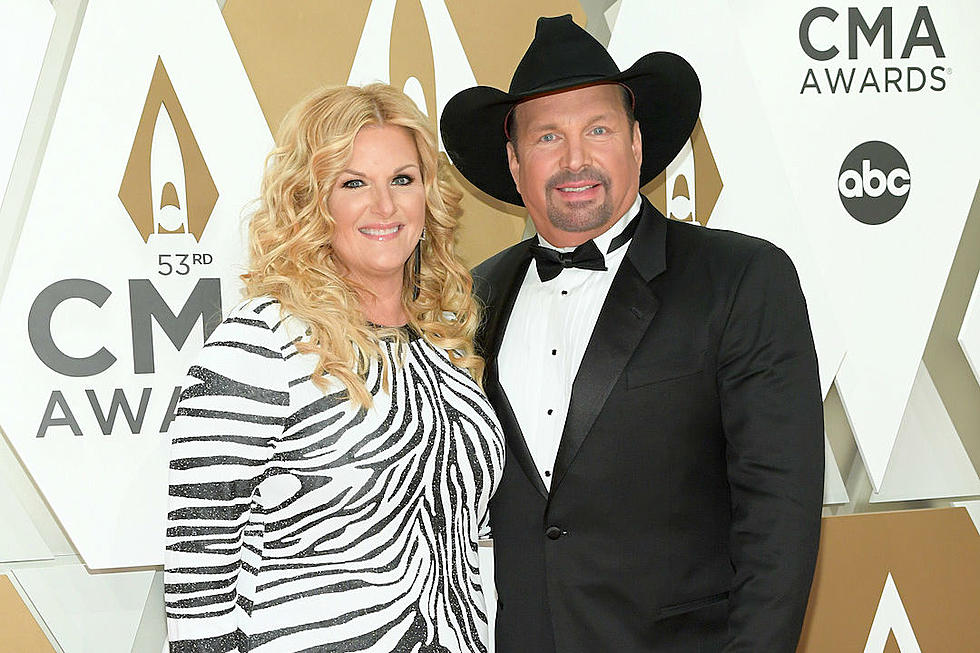 Garth Brooks' Favorite Part of the 2019 CMA Awards? Spending Time With Trisha Yearwood
Jason Kempin, Getty Images
Backstage after his big win at the 2019 CMA Awards, Entertainer of the Year winner Garth Brooks reflected on the highlights of the ceremony. As thrilled as he was to accept his trophy, the singer said that one of the most memorable parts of the evening was spending time with his wife, fellow artist Trisha Yearwood.
"I had the greatest night because of you, Miss Yearwood. I love you. That was fun," Brooks said backstage, addressing his wife directly. He then told press that the fun had actually started earlier in the day, when he and Yearwood decided to enjoy the moment instead of being nervous leading up to the ceremony.
"My wife and I were talking around 11 AM today. I remember looking at my phone, and we're talking about how lucky we are, not only to be in this business but to be in this business for the amount of time we got to," he explained. "So we decided, at 11 AM today, we're gonna have fun no matter what. Don't let the award at the end of the show be the butterflies in [your stomach], just go out and have fun."
After all, he went on to say, the biggest award of all is getting to play to a crowd of fans night after night. "And [I] try to remember, man, when [I] played these dive bars back in '89, there were 12 people there. And [I] had one single that I played five times a night, and each night, they made it sound like the first time [I] played it," he continued, before comparing that experience to his 2019 Dive Bar Tour.
"Now [I] get to go in these little packed dive bars and they know every word to every song [I] ever played....so that love that [I] get from the stage, that is irreplaceable."
That being said, receiving the Entertainer of the Year trophy put a sweet finish on Brooks' busy year of touring. "This is a symbol for that [love I get from the stage]," he concluded. "But I am going to be honest, [getting the award for the seventh time] has a special place in my heart. So if this ride ever does have to end, this would be a good one to end on."
WATCH: You Think You Know the CMA Awards?
10 "OMG!" Moments From the 2019 CMA Awards