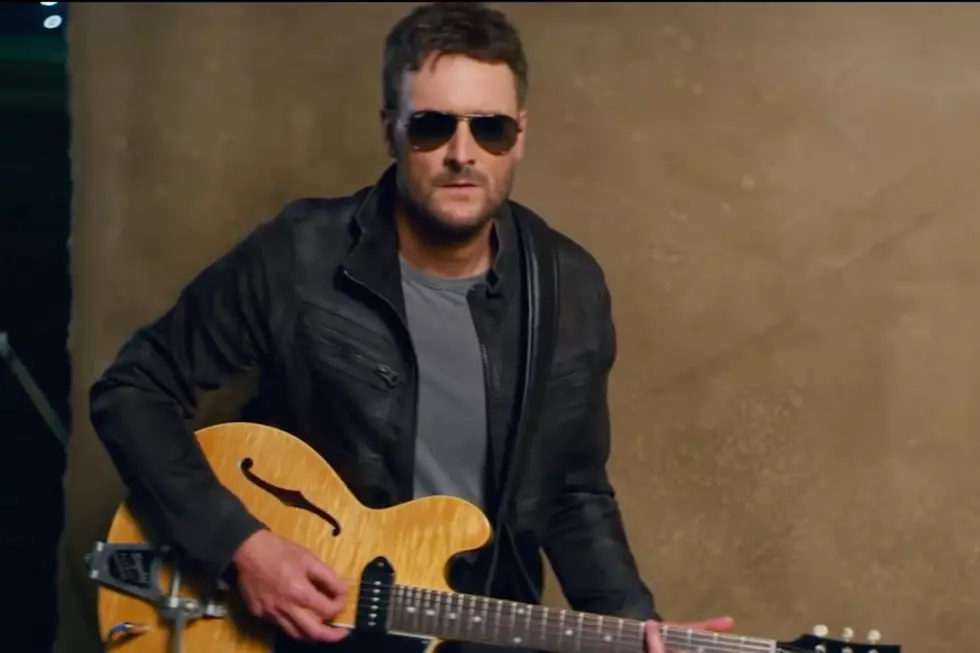 Watch Eric Church's 'Round Here Buzz', Darius Rucker's 'For the First Time' + More New Country Music Videos
YouTube
Eric Church, "Round Here Buzz"
Eric Church's "Round Here Buzz" music video once again features Mickey Smay, the teenage actor from Church's "Mr. Misunderstood" and "Record Year" clips. This one's all about his high school romance: He's a band geek, and she's a cheerleader. Interspersed throughout the shy looks, sky-high emotions and innocent love are clips of the couple now: She is in a fancy new job on the West Coast, and he's playing music in a grungy bar. The video ends on a cliffhanger -- and it will likely leave viewers with more than a little nostalgia.
Darius Rucker, "For the First Time"
"Derek George brought it in to me. We were writing together, and he had this idea and this great chorus about doing stuff for the first time," Rucker recalls. "I just thought it was such a great idea. I had to Google it because I was like, 'No one's really written a song called "For the First Time"?' It was crazy."
The "For the First Time" music video chronicles a young couple from the beginning of their relationship, at a pool party, through every event that happens "for the first time": getting married, buying a house, painting together, having a baby -- and the very last line of the clip brings it full circle. You'll see what we mean.
Morgan Wallen Feat. Florida Georgia Line, "Up Down"
Don't put away your cutoff shorts and Ray-Bans just yet! East Tennessee's Morgan Wallen (a former The Voice contestant) is still celebrating summer with his new "Up Down" music video. The project features Florida Georgia Line, Brian Kelley's new boat and a live concert at the Wharf Amphitheater in Orange Beach, Ala. Wallen toured with FGL on their Smooth Tour, and he tells People the duo treats him like "a little brother."
Adds Tyler Hubbard of FGL, "We've had the chance to hang, write and play shows together. He's super talented, and when we first heard this song, we knew we wanted to be on it — so we asked Morgan if that'd be cool."
"Up Down" is Wallen's follow-up single to "The Way I Talk," from his debut EP of the same name. He will be releasing a full-length record sometime in 2018.
Danielle Bradbery, "Sway"
Danielle Bradbery's "Sway" is an infectious and feel-good song, and the lead single for her sophomore project, I Don't Believe We've Met, and its music video will give you a big dose of happy. Bradbery's "Sway" video shows groups of young kids, high schoolers and older guys in a barbershop -- and the one thing they have in common is the groove they're feeling with "Sway." There's not an overarching storyline in this video; it's simply showcasing the unity, power and fun that music -- and dancing -- bring to our everyday lives.
Chase Rice, "Three Chords and the Truth"
When Chase Rice began conceptualizing the music video for "Three Chords and the Truth," he wanted to go in a different direction: "I thought, we could do the same old crap that everybody's doing, that I've done before, with this music video, or we could do something bigger and more special and hopefully change a kid's life and his family's life," Rice says in a press release, "and that's the route I wanted to go."
The "Three Chords and the Truth" video shows Rice searching for a special fan to give a guitar to. He explains why in the beginning of the music video, and, eventually, he stumbles on 8-year-old Nicholas Thompson, who has been diagnosed with hemophilia ... and is one of the singer's biggest fans. Viewers get to watch Thompson have, in his words, "the greatest day of my life."
Toby Keith, "S--tty Golfer"
Toby Keith's "S--tty Golfer" music video will have fans laughing. From Keith's new record The Bus Songs (a 12-track collection of tunes "written too late at night"), "S--tty Golfer" brings with it a music video that's a visual portrayal of the song's hilarious lyrics: plaid sweaters, super fancy equipment, visors, angrily throwing golf clubs, getting hit by golf balls, setting things on fire -- you know, the typical antics you see while golfing.
Kid Rock, "Tennessee Mountain Top"
We're not stretching the truth when we say this: Kid Rock's "Tennessee Mountain Top" music video it features a life-sized raccoon who's been disillusioned by the fame and fortune Hollywood appears to offer. The song itself speaks to the pleasures of country life, and its accompanying video shows Rock rescuing Jackson the Raccoon from the not-so-glitzy lifestyle he's found in LA. The raccoon trades bumper-to-bumper traffic, Hollywood disappointment and the competitiveness of the acting biz for Nashville's hot chicken, honky-tonks, great outdoors and cowboy hats -- plus, plenty of ladies.
Bebe Rexha Feat. Florida Georgia Line, "Meant to Be"
Pop singer Bebe Rexha and Florida Georgia Line collaborated on "Meant to Be," a song from her All Your Fault, Pt. 2 EP, so naturally, both acts appear in the song's music video. In the clip, Rexha hitchhikes along the highway until she gets a ride, and then she finds work at a tiny diner; however, being a waitress in the middle of nowhere is obviously not her dream, as viewers find out. Does she get her wish? You'll see if it was meant to be ... or not.