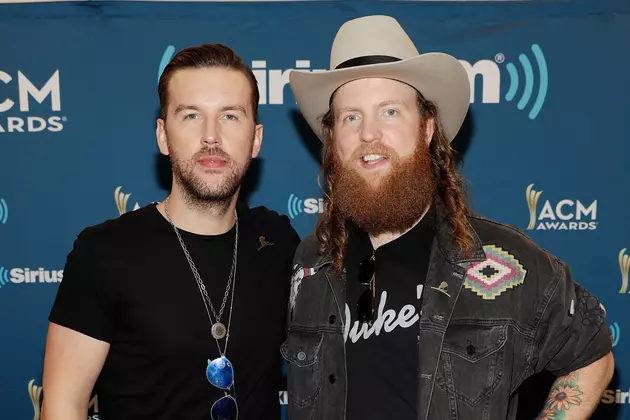 Brothers Osborne's TJ Osborne Shares Heartwarming Backstory Behind Gift to their Mom
Isaac Brekken, Getty Images
Earlier this month, the men of Brothers Osborne got to give their mom the gift of a lifetime: a brand-new house in Nashville. It's a wonderful story they'll be able to tell for years to come, but the story behind the surprise just might be the most heartwarming part of it all.
Their mom was previously living in a single-wide trailer in Delaware, and her sons got the idea to surprise her with something nicer, as well as closer to them. "We started thinking about moving her to Nashville a while back, but as you know, the market here is just insane," TJ Osborne tells Taste of Country.
"John ended up finding this house, and it was perfect," he continues. "It was right between both of our houses, so he ended up writing the homeowner assuring them that we weren't some sort of developer and we weren't going to tear it down."
And with that, the deal was sealed. However, things didn't go as smooth as planned. On the exact day that their mom was to be given the news about the new home, the phone rang.
"She called to tell us that she had to have a triple bypass," TJ recalls. "We immediately started thinking about if the surgery didn't go well."
"Thank God it did," he adds. "If something had happened, I think it would have torn us apart."
Indeed, being able to give such a gift to their mom means even more now after the heart-surgery health scare. "We've spent so much time away from my Mom because of distance, so knowing she will be close is a really cool feeling," TJ says. "I really enjoy having her around us, and the fact that she can now call herself a true Nashvillian."
So, have John and TJ been brought in to help decorate the new house at all? "Oh no, she is very picky when it comes to those things," TJ says with a laugh. "Heck, she will walk into my house and tell me she doesn't like where I have a chair or something. I'm like, 'But Mom, it's my house.'"
Neither TJ or John get to spend much time at home these days, as the two seem to constantly find themselves on the road thanks to the success of songs like "Shoot Me Straight." One of the many concert dates on their schedule include the Windy City Smokeout on July 15 in Chicago.
"We do a handful of those 'party all day' kind of events around the country, and it's always a good time," TJ says. "Of course, being a headliner at an event like that always gets me a little nervous since I know we are the main attraction, and it's all on our shoulders. But what's cool is that we will have a lot of our fans there."
You'll Love These Pics of Country Stars With Their Mamas