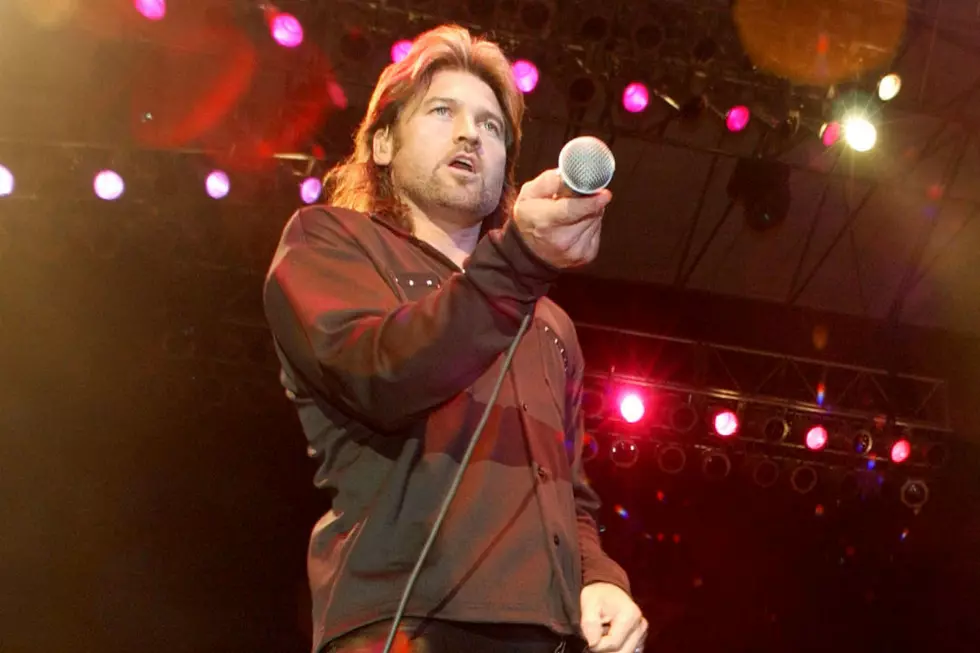 10 '90s Country Songs Made for Line-Dancing
Rusty Russell, Getty Images
Neo-traditional country sounds came electric-sliding onto the dance floor in the 1980s, without the waltzing and two-stepping that kept old-school country couples dancing for decades. Then, in the '90s, rows of urban cowboys lined the dance floors and stomped out a new rhythm when line-dancing emerged onto the scene, escorted by stars such as Billy Ray Cyrus, Dwight Yoakam and Alan Jackson.
A little bit folk dance, a little bit disco, a little bit Western swing, country line-dancing was a craze with a life of its own; entire bars catered to the fad! Line-dancing became so mainstream that urban retailer the Gap debuted a commercial during the 1999 Academy Awards that featured rows of khaki-clad dancers shuffling to Yoakam's honky-tonk cover of "Crazy Little Thing Called Love."
Two decades after line-dancing's arrival into mainstream pop culture, the Cowboy Cha Cha and Slappin' Leather are still taught in classes at bars and dance clubs, along with classic moves such as the Tush Push and the Canadian Stomp -- all moves that originated thanks to a few stand-out country tunes of the '90s. Read on for The Boot's picks for the decade's 10 best line-dancing tunes.
10

In 1994, McGraw rocked into the line-dance world with "Indian Outlaw." The song's pounding rhythm played into a rowdy lineup on the dance floor.

9

Twain's 1995 hit got all the ladies out on the dance floor, heel-toeing their way to confident independence. Given Twain's Canadian roots, it's only appropriate that this song helped popularize the Canadian Stomp.

8

Keith's breakout 1993 hit is perfect for a circle dance known as the Horseshoe Shuffle. The 'round-the-room dance train even includes couples' moves.

7

Want to do the Cowgirl Twist? Cue up this 1994 Gill track, a No. 2 country chart hit.

6

No line-dance party from the '90s would be complete without the country-meets-EDM 1995 hit "Cotton Eyed Joe." This one swept country dance floors in the U.S. courtesy of a Swedish band called Rednex.

5

Jackson's hit "Chattahoochee" found new life on the dance floor thanks to the popular choreography known as the Tush Push. The song's music video includes plenty of dancing, too!

4

Earle's "Copperhead Road" dropped in 1987, but it was the line-dance crowds of the '90s that propelled it to legendary proportions.

3

Country music fans across the country were Watermelon Crawling when Byrd dropped this hit song. It's still a standard go-to and one of the first dances that budding line-dancers are taught.

2

Brooks & Dunn dialed in the heel stomp with their hit song "Boot Scootin' Boogie." As perhaps the first song that comes to mind when line-dancing is mentioned, it remains a well-practiced classic in country dance clubs across the world.

1

Long before his daughter Miley was twerking, Cyrus catapulted county line-dancing from obscurity into legend, getting rows of hip-swiveling cowboys and women in skin-tight jeans out on dance floors across the country with this major hit. "Achy Breaky Heart" kicked off an era of heel-stompin', kick-ball-changing madness.