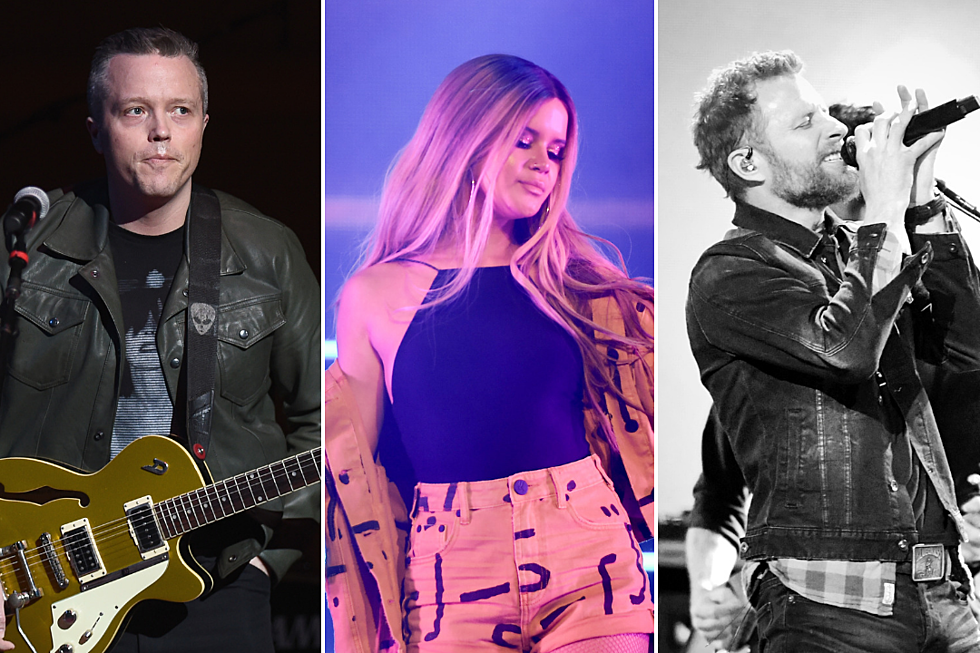 2019 Golden Mic Awards: Vote Now for the Year's Best Live Moment
Getty Images (3)
In 2018, The Boot introduced the Golden Mic Awards, and in 2019, the reader-voted digital awards series is returning for another year! Recognizing the best in live country and Americana music, The Boot's Golden Mic Awards feature nine categories of staff-selected nominees who rule the stage.
This week (April 22-26), The Boot will reveal 2019's Golden Mic Awards categories ... and then, it will be up to you, our readers, to crown the winners. After each Golden Mic Awards category is revealed, readers will be able to vote for their preferred winner in each category as often as once per hour through 11:59PM ET on May 22. We'll announce the winners on the site the next day, May 23.
Both country music superstars and Americana underdogs run in a small enough circle that there's no telling who might form a one-off trio or sing an unexpected duet -- especially when a tour passes through Nashville. As these 10 nominated moments demonstrate, live surprises aren't limited to guest stars, with unusual cover song choices and can't-miss television performances making the next morning's headlines.
Fans of all ages were reminded that Alabama's music bridges generational tastes back in January, when Michael Ray, Jake Owen and Clint Black's rendition of "Lady Down on Love" reduced the legendary band's Randy Owen to tears. The impromptu trio's performance happened at a St. Jude's Children's Research Hospital function, honoring the music of Owen and a more serious cause he's championed for decades.
Brandi Carlile has been seemingly -- and deservedly -- ever-present in 2019. due to the critical success of her 2018 album By the Way, I Forgive You. She stands out even more after that incredible performance of her single "The Joke" at the 2019 Grammy Awards.
Eric Church and his secret weapon, backup singer Joanna Cotten, often sprinkle rock 'n' roll covers into their fan-favorite live show. Back in January, the duo gained viral traction after a their cover of Beatles classic "Come Together" made the rounds online.
Although superstar renditions of "Shallow" hardly seem that special anymore, Jason Isbell's song from A Star is Born, "Maybe It's Time," still holds up. In one of the most memorable live moments of 2018, Isbell unveiled his version of the soundtrack cut on Oct. 22, during his multi-night residency at the Ryman Auditorium.
For whatever reason, Texas natives Willie Nelson and George Strait had never played together live prior to this calendar year; Strait even wrote the Honky Tonk Time Machine album closer "Sing One With Willie" about this circumstance. That changed when they joined forces at the Jan. 12 event Willie: Life & Songs of an American Outlaw, A Willie Nelson All-Star Concert Celebration, during which they sang Strait's instantly outdated album cut.
During an August 2018 show at Nashville's Nissan Stadium, Taylor Swift sang the song that started it all, "Tim McGraw," with the man himself and his bride, Faith Hill. Swift's surprise special guests have become a noted part of her shows throughout the years, but this moment especially brought the house down.
When the Foo Fighters, featuring alt-country solo artist and podcast host Chris Shiflett, played Atlanta, Ga., during Super Bowl LIII festivities, they recruited the Georgia-bred Zac Brown Band as surprise guests. Better yet: ZBB had initiated the favor a couple nights earlier by bringing Foos frontman Dave Grohl out during their own pre-Super Bowl show.
Which of these moments was the year's biggest live moment? Vote below!
Country Music's Best Live Albums